Suppose you have a lot of time and you want to see the real Thailand, where you pull to? In the North you got Chiang Mai and Chiang Rai still mainly among the tourists. In the South you have the revelers along with the beach hangers. And Central and West leaves you with the Bangkok Lovers.Then just to the East. Right?
"The North-East of Thailand is called Isaan and is the poorest region of Thailand.They have their own language, Isaan, and their own culture. But really great tourist spots are not there. No monuments, no temples, no spectacular wildlife. Yet there is one place why you should visit the Isaan for sure. Namely Phu Kradueng.
Short interlude: Big thanks to the people of Thailandtraveldreams.nl for the Phu Kradueng tip. I got stuck in Khon Kaen, found their website and saw that they were based in Khon Kaen. After that I just walked into their office. And even though they could not really help me (they do group tours and planned tours), they still gave me free tips and checked if there were tents free at Phu Kradueng.Top!
Phu Kradueng is actually the most famous national park of Thailand.At least for the Thai people, because not many tourists come. The best way to travel to Phu Kradueng is by bus from Khon Kaen. Takes u about an hour. And then the journey begins.At the bottom of the mountain deliver your luggage to the staff. Keep in mind that you pay about 15 baht per kilo (rightly so because the trip is quite heavy). Do not be too ambitious and pay for your luggage! There for a walk to the top is really not worth it. Your back will thank you.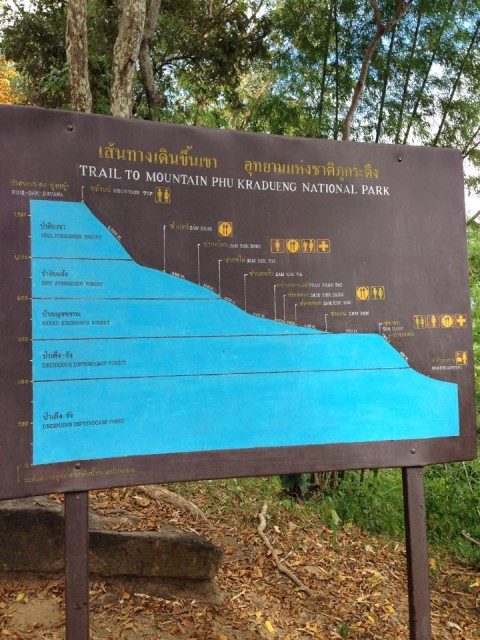 The trek to the top is 6km long and takes you to an altitude of 1300m. Yup, nothing but climbing. Fortunately, the path is very well laid out and you get very little people on the other side of the road. Plus getting at the top really feels like a victory! Yes, I made it. Until you find yourself at the top for another half hour to further walk on the plateau. Damn you mountain! This piece of the walk is quite surreal. Silence, trees left and right and no indication of when you've reached the camp. Just stop and take the time then is the message.
According to tradition Phu Kradueng has a rather special meaning. Who, as a couple, manages to reach the top with a smile on the face and is able to go down the hill with the same smile will have a long relationship. Nice right?I climbed up alone. Oops. And ended up sweating and exhausted eventually into the camp where they let me pick a tent. Yes, for 3 days in a tent at 15-18 ° C. Cold!
In terms of nature at Phu Kradueng you can see some nice waterfalls. For that you should not go there. But for the view. Fuck, every cliff provides your of a mileage view over Thailand. Beautiful.And also so serene. Do you like it more active, rent a bike. A day mountain bike costs you 360 baht, quite pricey. But you drive it around the cliff route.
Do you like a real freaky experience, go like I did during the National Holiday (also called King's birthday). At that time, Thai students during their long weekend all go to Phu Kradueng. Result: I was the only tourist among 1,000 Thais youngsters. Who then also all started to sang along when the national anthem started playing. Weird. Special.
Oh. And beware of the wild elephants.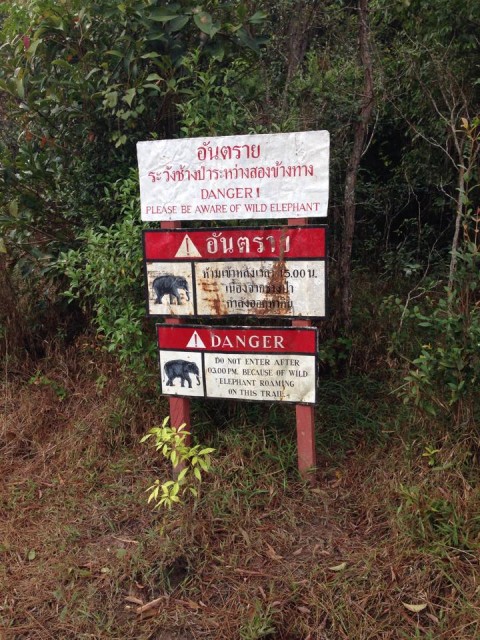 More information about Phu Kradueng can be found on the website.